Makers Trail PASSPORT
Collect stamps, earn rewards with the Makers Trail Passport
Start playing along the 2022/2023 Makers Trail Flight Crew Passport now! Then, taste your way through Berrien County visiting over 40 local wineries, breweries, cideries and distilleries between now and May 31, 2023. The more you visit, the more Passport stamps you can collect, the more rewards you can earn. Traveling the Makers Trail is fun, relaxing and a great way to find favorite craft beverages.

Download the new Makers Trail App to complete your passport
We've switched to a digital system this years to make stamp collecting easier for you. No more worrying about forgetting your passport and no more dropping it off at the Tourist Council to earn prizes. Now, you can simply download the app and map out your flight path there. Once you visit a location, just ask your server for their unique access code to earn your stamp on the app. Each time you complete a level, your information will automatically be submitted to the Tourist Council. It's that easy! Download it NOW to get started!
Download the app to get started!
Get Your FREE MAKERS TRAIL PASSPORT:
PARTICIPATING HOTELS | MAKERS TRAIL LOCATIONS
Map out your flight path using the Makers Trail Guide or our free app from the App Store. Printed maps will be available at participating hotels and Makers Trail locations. Then, start visiting each location. Each destination has a distinct personality and serves specialties to showcase each maker's craftsmanship. Order a flight so you can taste more!
Download the Printable Passport
You can download this printable Passport page if you do not have a smart phone. The Southwestern Michigan Tourist Council will have copies on hand as well.
Earn these prizes!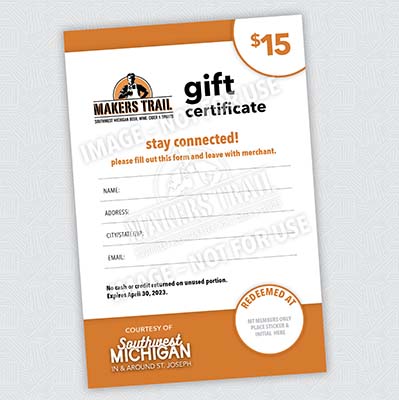 Level 1
Makers Trail $15
Gift Certificate
Collect a total of 10 different Makers Trail stamps.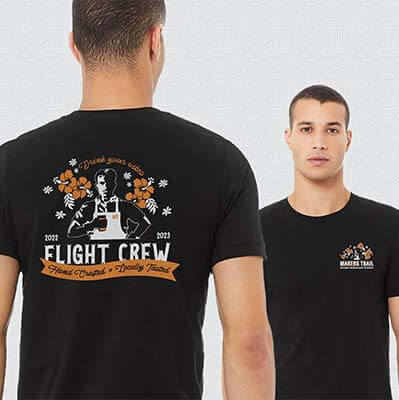 Level 2
Makers Trail
Tee
Collect a total of 20 different Makers Trail stamps.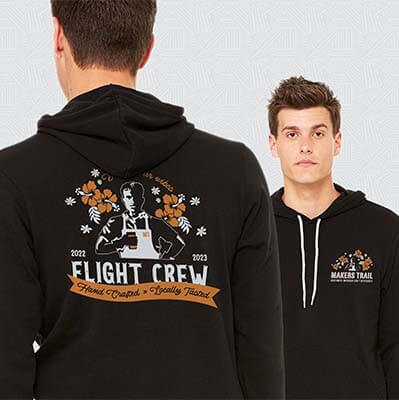 Level 3
Makers Trail
hoodie
Collect a total of 30 different Makers Trail stamps.
Enter our GRAND PRIZE Drawing!
Each year, we are giving away FIVE Grand Prizes. Each FLIGHT CREW ALL-INCLUSIVE LAYOVER package includes two nights (double occupancy) in a participating hotel in Benton Harbor, St. Joseph or Stevensville. You also will receive gift certificates that can be used at area restaurants, Makers Trail destinations and more.
ELIGIBILITY FOR THE GRAND PRIZE DRAWING:
Complete all levels including the bonus level by May 31, 2023. Receipt from stay is required.
When you complete all levels of the Passport, the app will submit it to the Southwestern Michigan Tourist Council. Turn in your hotel stay receipt by emailing it to passport@swmichigan.org. Paper Passports and the hotel receipt must be dropped off or mailed to the Tourist Council for validation by June 9, 2023. The name on the hotel receipt and passport must match.
You will automatically be entered into the Grand Prize Drawing on June 23, 2023.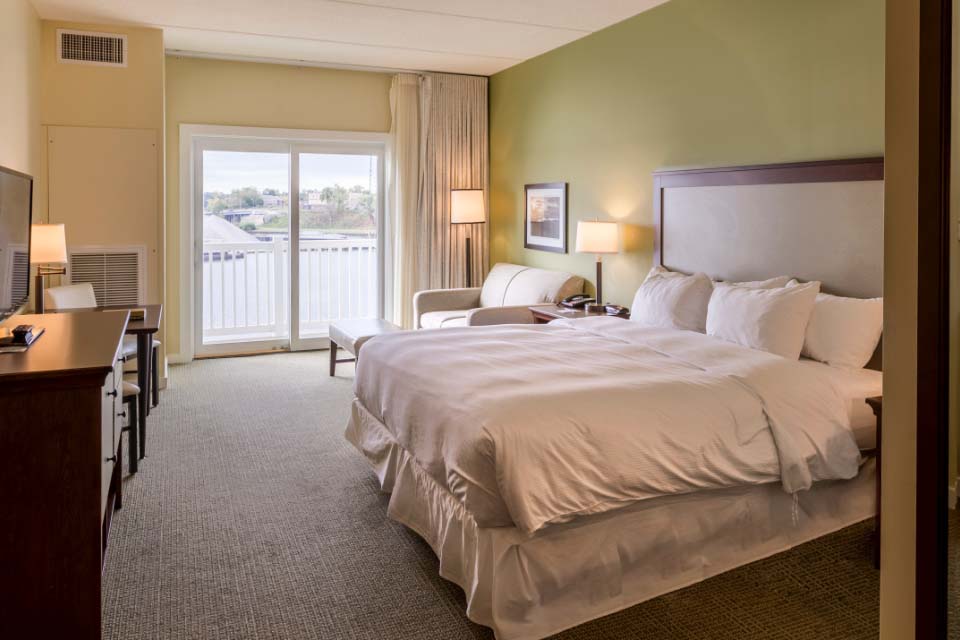 Official Passport Rules
Here's how it works:
You must be at least 21 years old to participate. Only one passport per person.
Bring your Flight Crew Passport or phone with the Makers Trail App to any of the Makers Trail breweries, distilleries, cideries and wineries. For the current list of makers and destinations, visit swmichigan.org/locations.
Make a purchase, then ask your server for the location's stamp code for the app before you leave. Each location has a unique Passport stamp and code, and you may use one from each location toward earning your rewards. Duplicate stamps and codes will not be counted.
Keep your Passport or use the app to continue collecting stamps to earn up to four rewards plus an entry into our Grand Prize drawing. (Offer good while reward supplies last).
Once you've earned 10 stamps or stamp codes, you've earned that reward. Continue collecting them to earn as many rewards as you can. The app will automatically update to let you know how many reward levels you've completed.
If you have a paper Flight Crew Passport, keep it safe! Additional Passports are available, but lost stamps can only be replaced by revisiting the Makers Trail destinations. It's advisable to fill out the top portion of the Claim Ticket as soon as you get your Passport to avoid having it used by another person.
Passport Validation
How to claim your rewards:
Collect stamps or stamp codes from Makers Trail locations to earn fun prizes between now and May 31, 2023. Duplicate stamps will not count toward your rewards.
As app users finish a level, all of their information will automatically be sent directly to the Southwestern Michigan Tourist Council. The only thing an app user will have to send the Tourist Council is their receipt from a hotel stay for the Bonus Prize and Grand Prize entry. Emails with the hotel receipt can be sent to passport@swmichigan.org. If you have the app, your claim ticket information will be tied to your account.
Paper passport users should fill out the Claim Ticket on the back side of the paper Passport. Do not remove the Claim Ticket from your Passport.
Once you complete all the levels you're interested in, submit your paper Flight Crew Passport for validation by mailing it or bringing it in person to:
SOUTHWESTERN MICHIGAN TOURIST COUNCIL
2300 Pipestone Road, Benton Harbor, MI 49022
Phone: 269-925-6301 | Hours: Monday-Friday 8:30am-5pm. Closed Saturday-Sunday & major holidays.
Passports submitted by mail will not be returned but your rewards will be sent to your address. If you bring your Passport to the Southwestern Michigan Tourist Council (we are conveniently located at I-94 Exit 29) you can pick up your rewards at that time.
Passports must be received and validated by June 9, 2023, to be eligible for earned rewards.
The Passport's return address must match the name of the person it belongs to. We will not accept a Passport sent by someone other than the person who filled it out.
This offer is good while reward supplies last.
When you have questions, please contact us at info@swmichigan.org or 269-925-6301.