Makers Trail PASSPORT
Collect stamps, earn rewards with the Makers Trail Passport
Start playing along the 2022/2023 Makers Trail Flight Crew Passport now! Then, taste your way through Berrien County visiting over 40 local wineries, breweries, cideries and distilleries between now and May 31, 2023. The more you visit, the more Passport stamps you can collect, the more rewards you can earn. Traveling the Makers Trail is fun, relaxing and a great way to find favorite craft beverages.

Download the new Makers Trail App to complete your passport
We've switched to a digital system this year to make stamp collecting easier for you. No more worrying about forgetting your passport and no more dropping it off at the Tourist Council to earn prizes. Now, you can simply download the app and map out your flight path there. Once you visit a location, just ask your server for their unique access code to earn your stamp on the app. Each time you complete a level, your information will automatically be saved. When you finish all the levels you'd like to, fill out this Google form and the Tourist Council will send you prizes. You can't receive prizes unless you fill out the Google form. It's that easy! Download it NOW to get started!
Download the app to get started!
Get Your FREE MAKERS TRAIL PASSPORT:
PARTICIPATING HOTELS | MAKERS TRAIL LOCATIONS
Map out your flight path using the Makers Trail Guide or our free app from the App Store. Printed maps will be available at participating hotels and Makers Trail locations. Then, start visiting each location. Each destination has a distinct personality and serves specialties to showcase each maker's craftsmanship. Order a flight so you can taste more!
Download the Printable Passport
You can download this printable Passport page if you do not have a smart phone. The Southwestern Michigan Tourist Council will have copies on hand as well.
Earn these prizes!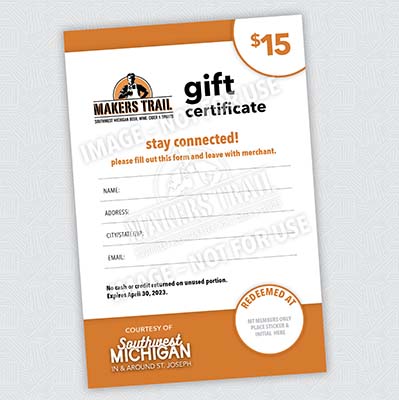 Level 1
Makers Trail $15
Gift Certificate
Collect a total of 10 different Makers Trail stamps.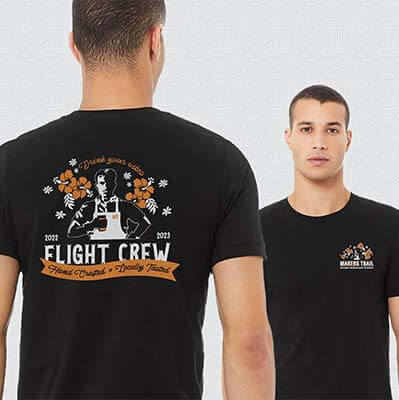 Level 2
Makers Trail
Tee
Collect a total of 20 different Makers Trail stamps.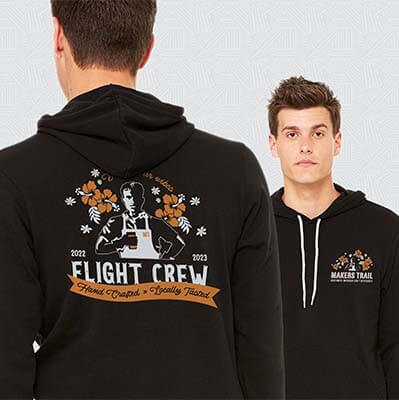 Level 3
Makers Trail
hoodie
Collect a total of 30 different Makers Trail stamps.